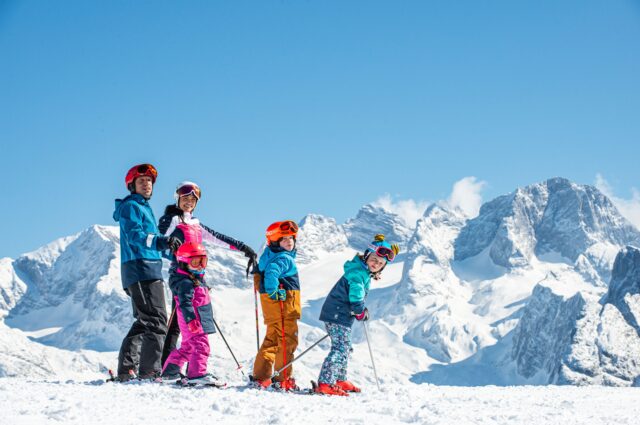 Active Family
Booking period:
March 9th 2024 - April 1st 2024
Surrounded by the breathtaking mountain panorama of the Dachstein glacier, the Gosaukamm and the Tennengebirge, you will find the skiing and hiking region Dachstein West.
Active family package
Children under 15 years (D.B.O. 2008 and younger) ride for free in the Dachstein West ski region if at least 1 parent or 1 grandparent purchases a full-fare ski ticket for the same duration of the children's ski ticket (valid from the purchase of a 5-day ski pass).
*Last possibility for issuing ski ticket for this promotion 28.03.2024
Bookable March 9th to April 1st 2024
Included services:
* 4 nigths in the apartment "Sonnenblick" without meal for 2 adult 1 child under 15 years
* skiing pass for 5 days in the skiing area Dachstein-West for 2 adult 1 child
* welcome drink in the apartment
* voucher for one cup of coffee in our huts "Edtalm" or "Sonnenalm"
* daily free sauna, infrared cabine and gym
* free parking in front of the house
* free W-LAN in the hole house
* free ski bus (2 km far from our house)
* all Unterschlag well-being accompishment including
* daily events from the tourism Abtenau
from € 945,00 for 4 nights in the apartment for 2 adult and 1 child under 15 years including skiing pass for 5 days for the skiing area Dachstein-West
(local tax and final cleaning is not included)
Please let us know which package you are interessted in. Just leave a short note in the message area of the form on the next step.