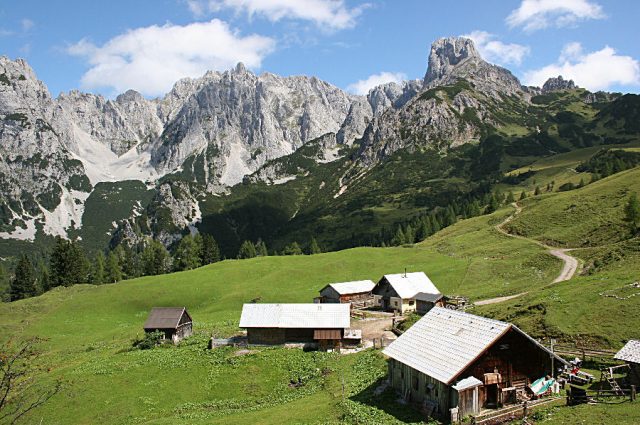 Hiking or mountain climbing
Best price guarantee – Book here and save money.
Hiking or mountain climbing in the Salzburger Land – An experience for the whole family
Surrounded by the peaks of the Tennengebirge, Gosaukamm and Dachstein, here in Lammetal you feel like you have discovered a secluded oasis. Opportunities range from strolls across flower-strewn alpine meadows and excursions from hut to hut, to intrepid mountaineering adventures.
Nature lovers definitely get their money's worth when it comes to hiking. Hiking trails extending countless kilometers, the fresh air and glorious views of various alpine ranges make your hiking tour a memorable experience.
And the opportunities for designing your own personal hiking tour are practically infinite. We will be glad to provide you with hiking maps once you are here, insuring that nothing will get in the way of your hiking enjoyment. From right here at our guest house, you can pay a visit to many mountain huts in the area, a great way to learn more about life in the hill country.
Mountaineers aren't in the slightest neglected either, of course. Especially rewarding: summit tours of the Donnerkogel or perhaps the famous Bischofsmütze.
There is also much for children to discover: for example at the Postalm in Abtenau, the Trattbergalm in St. Kolomann or on the Karkogel in Abtenau. The nearby area is also home to a number of hiking paths that are suitable for prams.
In addition, experienced and well-trained hiking guides are available whenever you need them. They are also happy to answer any questions you might have about equipment, safety or tour planning.
Here is a short overview about hiking and mountaineering in our region:
about 300 marked hiking paths
scores of cosy huts
well discribed hiking paths
guided hiking and mountain tours
numerously alpine pastures (Postalm, Edtalm)
demanding mountains (Bischofsmütze, Donnerkogel, Angerstein)
Interactive map of walk