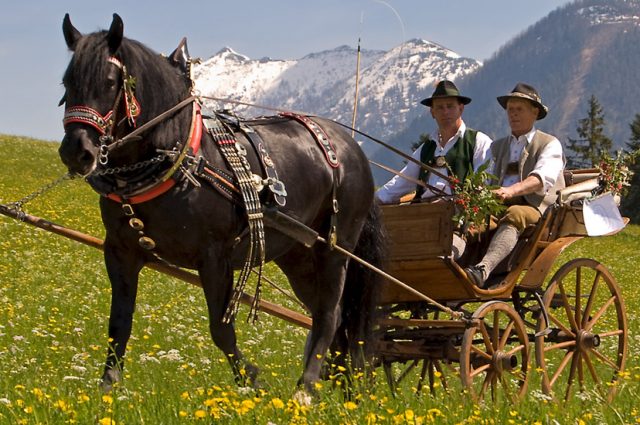 Riding and Horse-drawn carriage
Best price guarantee – Book here and save money.
Horses are a very traditional aspect of life throughout the Tennengau. Which means, there are wonderful opportunities for horse lovers to enjoy a holiday with or without their own horse. At Lammertal Riding Stables, located close to our guest house, you can enjoy trail rides on your own mount or a rented horse out to some of the most beautiful spots in our region.
The Walking ride map "Lammertaler Reitwegnetz" you will get in the Tourism Offices of Annaberg, Lungötz, Abtenau, St. Martin and Russbach.
Naturally, you can also book a ride on a horse-drawn carriage, winter or summer. Fiaker carriages in Salzburg City or at the foot of the Dachstein are always waiting for you. But also in our home community of Annaberg im Lammertal, you have the chance to quietly explore the most beautiful places in town on horseback.
Here our legendary, local cabs:
Georg Lanzinger, Phone: +43 664/65 72 205
Bartholomäus Haigermoser, Phone: +43 6463/83 44
Johann Hirscher, Phone: +43 676/70 23 625
Georg Schlager, Phone: +43 664/18 08 893