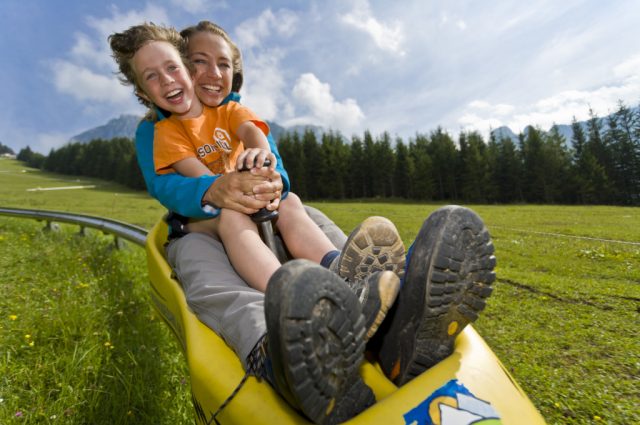 Mountain Lifts
Best price guarantee – Book here and save money.
During your summer vacation in the Salzburg mountains, you will actually be greeted by four mountain lifts that carry you up to the most scenic lookout points in our region. Whether hiking, biking, paragliding or simply enjoying nature, as you set out from one of the lift stations in the mountains, you will be able to find so many different ways to enjoy the day ahead.
An overview of area mountain lifts:
Karkogel Abtenau offers a wide variety of choices. The mountain terminal is located at 1133 m above sea leevel and is a starting  point both for hikes and downhill adventures. Die 1890 m long Alpine Slide is one of the most popular attractions in the region.
The Donnerkogel lift in Annaberg carries you up to a magical world of hiking at the foot of the Dachstein. Traditional mountain huts invite guests to stop by, relax and enjoy a marvelous selection of delicious homemade foods. With your batteries recharged, you can then explore the entire Edt- and Zwieselalm area.
High over Hallein carries you up the Keltenfürstlift Dürnberg. From there you enjoy the longest Alpine Slide of Salzburg (2,2 km) .
The Hornbahn lift from Rußbach takes you right into the heart of the Dachstein West hiking paradise at 1450 m above sea level. Oneat the top, you can ride the ever-popular Ant Express (a "trail-train") to the Ameisensee or make a refreshment break at the Edtalm. And your children will be able to explore "Brunos Mountain World" right next to the lift station itself.